Rubble!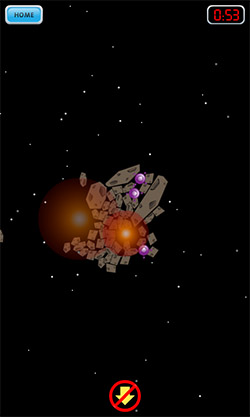 Asteroids can be single rocks, or clumps of smaller rocks held together by their mutual gravity. And a bunch of them are headed towards Earth! Your job: use bombs and impactors to deflect them away from Earth before time runs out. Humanity is depending on you! And remember: those movies where they just blow up the asteroid and the pieces don't matter? That doesn't actually work.
This is a simple, one level game built on the Box2D physics engine. Individual asteroids are attracted to each other by their mutual gravity in a physically consistent way.
For teachers: Rubble! can be used as an educational game to supplement classroom discussions on asteroids, comets, Earth impacts, and gravity as a universal force. Development was supported through grants by the National Science Foundation and NASA.